OEE - All You Need to Know
What is OEE?
Let's start off with the basics. In short, OEE is your Overall Equipment Effectiveness.
Those words alone don't tell you much though. Your OEE is a percentage that represents how well you're performing. A 100% OEE would mean that "you are manufacturing only good parts, as fast as possible, with no stop time" (oee.com). When you look at OEE, you are looking at the average percentage of your Availability, Performance, and Quality.
How do I calculate OEE?
Your OEE is calculated by multiplying together your Availability, Performance, and Quality. To get your percentages for each of those variables, a couple more calculations are needed:
Availability: Run time (the time your equipment is scheduled for production and running) / Planned Production Time (the total time your equipment is expected to be producing).
               The Availability percentage represents what percent of the time your process is running during planned production time.
Performance: Net Run Time (the time left after scheduled time losses, such as planned maintenance) / Run Time
               The Performance percentage represents what percent of the time you are running as fast as possible.
Quality: Good count / total count
               The Quality percentage represents what percent of items produced are of good quality (no scrap/defects).
How do I use my OEE?
How to use OEE percentage is the main topic I would like to touch upon in this post. Calculating OEE is the first step, and using that information to improve your operations is the next. Some of the most important ways to utilize your OEE is:
Managing your 6 major losses
In manufacturing, there is something called the 6 major losses. These 6 losses are the most common ways that you lose valuable operating time. The 6 losses are:
Equipment Failure
Setup and Adjustments
Idling and Minor Stops
Reduced Speed
Process Defects
Reduced Yield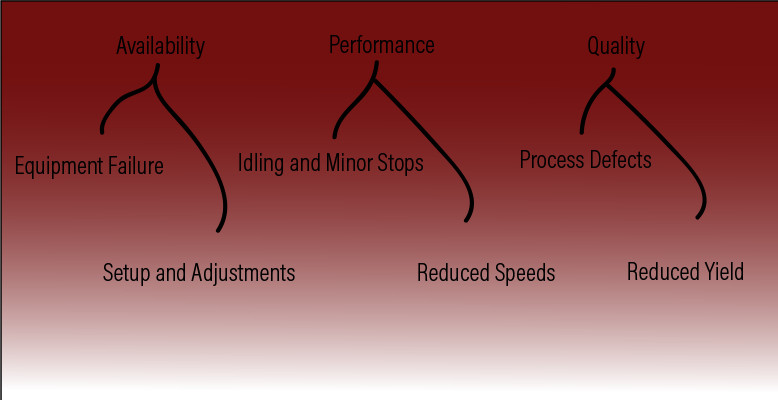 Maximize your productivity and analyze what needs improvement
Looking at the OEE parameters' percentages, i.e. Performance, Availability, Quality, etc., you can identify the one that needs the most attention. You can explore as many OEE details as you desire; in that way, you can identify where to invest the most in order to improve operations.
TPM (Total Productive Maintenance)
TPM is a method of equipment maintenance that aims for perfect production, similar to OEE. In TPM, you need to be able to minimize your downtime as well as improve your overall product quality. OEE's goal is identical to that of TPM, thus, you can utilize your OEE knowledge to approach your TPM ambitions.
What are OOE and TEEP?
OOE (Overall Operations Effectiveness) and TEEP (Total Effective Equipment Performance) are variations of OEE. OEE measures operations' performance only when production is scheduled to take place. OOE includes unscheduled time in the calculation as well. For example, if a machine is down due to unscheduled maintenance, that time would not be part of the OEE calculation, but it would be a part of the OOE calculation. TEEP has the widest time frame. TEEP makes its calculations based on 24/7 availability, starting with the day you install your first machine.
To summarize:
OEE measures Overall Equipment Effectiveness. It is a measure of how well an asset is utilized during the periods when it is scheduled to run, and includes the quality of the output.
TEEP measures the Total Effective Equipment Performance. It is a closely related measure to OEE which uses calendar hours rather than only scheduled operating hours.
OOE measures Overall Operations Effectiveness. It is somewhere between OEE and TEEP. It does not use calendar hours like TEEP, but rather the hours that were available for the machine to work.
Each one of these measures serves a purpose of its own. All three should be considered indispensable for continuous improvement of efficiency.
In companies with multiple facilities, it is extremely important to standardize the way these indicators are measured in order for them to be able to be part of the decision process of where to make what products.
If you want to be able to define and see your OEE, OOE, and TEEP in the way that makes the most sense for your operations without having to track the data or do the calculations manually, consider getting a software that will do it for you, such as IMCO – CIMAG MES. It will calculate OEE, OOE, TEEP, as well as give you a break-down of all the calculations that were done and their results.
Overview of OEE:
Reactive Vs. Proactive Corrective Actions in Manufacturing When it comes to critical assets used during the manufacturing process, anomalies and equipment malfunction or failure are...
Read More
Follow Us on Social Media!